Roxanne
Roxanne is our fierce leader! She is Growing Paper's founder (together with Nileta). Roxanne is passionate about people, animals, the environment and has excellent business sense. She is practical and to the point. Playing the piano and doing Yoga are some of her favourite things to do.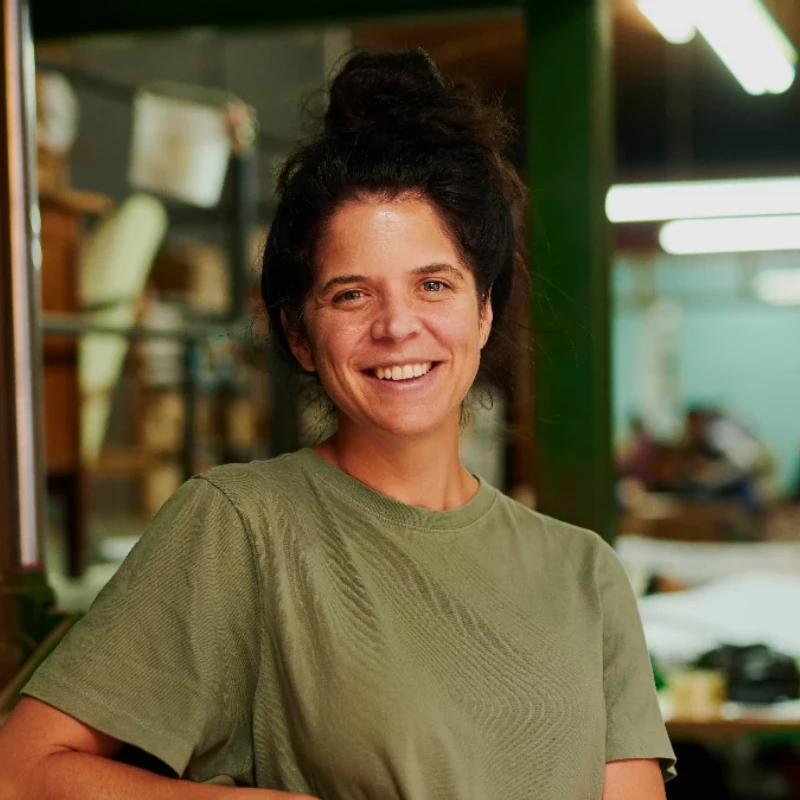 Christel
Christel is our Project Manager and also a partner in the business. She is working hard behind the scenes to lay the foundations for Growing Paper to expand in more environmentally friendly options. Her love for slow cooking & travelling shines through in her creative energy and deep earthly roots. She loves to read and sew.

Nileta
Nileta is one of our founding members. She has helped Growing Paper to grow to the business it is today. Being a working parent has helped her embrace the importance of a work/life balance and flexibility to get the job done well. She is our people's person who's proud of every employee's achievements and growth. She loves to be around her family, enjoys good food and loves music. She finds tranquility relaxing on a stoep with a view over water, whether it is a river, dam or the ocean.
Franza
Franza is a partner in the business. She is our "front of house" person who helps our clients with passion. She loves to laugh. She is always ready to help people as well as animals. She has a lust for life and is adaptive to any challenge thanks to her faith. She is definitely a family person and adores her husband and two daughters.
Pierre
Pierre is Growing Paper's right hand when it comes to site maintenance. He is eager to help with anything that needs fixing or assistance on the farm. He is a huge rugby fan and supports the national team and the Lions. He is a grandpa to 3 grandchildren and also all the other kiddies on the farm. Something to eat always cheers him up.
Carolette
Carolette is our most adventurous (she owns a bike named "bobjan") and practical employee who makes things happen in our production department. Her dream is to travel the world in a customized van with her cute little boy in the back seat, as he is the most important person in her life. She is definitely one of those "dynamite in small packages" people.
Ntombikayise
Ntombi does all our wholesale printing. She started out in the paper drying department and is flourishing with the printers these days. She is an entertainer at heart who loves to dance and sing. She would love to further her career at Growing Paper by supportive study.
Manusca
Manusca helps in the packaging department. Her words are to the point, just like she is: short and powerful. She would love to travel the world but return to the farm where she was born and raised. She loves farm life. Manusca started with us quite a while ago and has matured into a wonderful young lady and very good mother to her son.
Andrea
Andrea is our main cutter on the guillotine. She has a cat named Rosie and loves listening to music and dancing. She is also a devoted Christian who can pray up a storm in our weekly meetings. She would like to retire in Mauritius next to the beach in a little rondawel.
Soso
Soso has an interest in fashion and loves to dress up. She is one of our paper makers. She is a bubbly person and has a contagious laugh. Her childhood dream was to become a police woman to help people and she would love to learn how to bake.
Alinah
Alinah is one of our papermakers, even though she always wanted to be a firefighter. Needless to say, she is one of our fire marshals! Alinah loves geography and her second career choice is to be a climatologist. She is one of those people that you will always see with a smile on her beautiful face.
Nkokoi
Nkokoi is a paper maker, the one that makes the largest sheets in in the factory. She is very proud of her role. She is a friendly lady and enjoys running for exercise. At school she loved playing soccer and dreams to own her own clothing store one day.
Gladys
Gladys works in the papermaking department. She is a shy and soft spoken lady. She has great respect for her parents and adores her children. She would love to visit Dubai. She likes to listen to Gospel music whenever she can. Her favourite food is lasagne. She wants to retire in the Eastern Cape one day.
Ida
Ida is a paper maker who takes her work quite seriously. She wears the most beautiful traditional dresses, especially on special occasions. She is also a grandmother to a little girl whom she loves dearly. She is an avid gardener and would love to visit Ghana one day.
Naomi
Naomi is a gentle soul who helps us in the packaging department. She values honesty and has great respect for her mother. She is always open for a good laugh and knows how to move on any Whitney Houston song. She dreams of visiting Australia one day.
Seipati
Seipati is our young African queen at Growing Paper. She helps in the paper drying process. She is a devoted mother who loves to read Shakespeare and love stories. Life sciences was her favourite subject at school. She is on our first aid team and her dream is to become a doctor one day.
Thea
Thea is part of the papermaking team. She is a hard worker and you can always count on her. She assists her papermaking partner by making sure the paper enters and exits the drying process fluently. Her family is her rock and she would love to take them for a vacation near the beach.
Liezel
Liezel helps in the paper drying process. She is a doting mother and dreams of travelling by train or aeroplane one day. She is a quiet soul, but when she smiles the whole world smiles with her.
Ntombekhaya
Ntombekhaya helps in the drying department by assisting her teammate Nkokoi. They are responsible for producing our largest paper the factory can offer and does a great job of it. She would love to climb Table Mountain one day and loves to spend time with her children. Her ideal job would be an electrician. She is a devoted Christian and we constantly find her reading her bible during her lunch hour.
Alene
Alene is our happiest employee, always smiling or laughing. She works in the printing department and is very diligent. She is very passionate about horses and loves animals. Her children are her number one priority in life and she's not afraid to try new or adventurous things!
Abdul
Abdul is our driver and has been with us since 2016. He is a true ambassador for Growing Paper and educates everyone about recycling and reusing wherever he goes. He makes sure we don't run out of paper as he collects paper waste from businesses for us. He also recently learned how to work our die cut machine. Abdul has always been inspired by his father.
Alouma
Alouma manages the paper making department. She is inquisitive and loves to chat. She's an animal lover and used to manage a dairy farm before she joined our team. She was an excellent gymnast at school! She enjoys cooking and loves to bake cakes with her two children on weekends.
Mary
Mary is a fun person who can make all of us laugh with her interesting dance moves. Her job is very important, without Mary our customers won't receive their lovely packages. She makes sure all our orders are complete and ready for distribution. She always puts others first and respects her elders.
Porcia
Porcia has been with us since the beginning. She has a heart of gold and is a true mother hen who would help anybody she can. Her name means "The one who can be well-nourished" and is so fitting to the soul food she shares with everyone around her. Her colleagues are always very excited when she has extra "waterbrood" in her lunchbox.
Cecilia
Cecelia is working in our packaging department. She is one of the employees who has been here since the beginning. She is very close to her mother and is a stylish woman who loves to rock different hairstyles. She would love to retire in Durban, close to the beach. Her favourite program is Uzalo.
Laurianne
Laurianne is the glue between all the departments at Growing Paper. She has proven to be a very dependable person and has no patience for not getting a job done. She is a warm chatty person who often leaves people laughing at her funny comments. Xhosa is a language she wants to learn one day. Laurianne enjoys the beach just as much as she enjoys the quiet farm life. She would love to visit her brother in Switzerland one day.
Diatile
Diatile is a papermaker with very good leadership skills . She's quiet and friendly but stands for what she believes in. Her family and mom are the most important people to her. She dreams of flying in an aeroplane one day and visiting the United Kingdom.
Anneline
Anneline is our first level paper quality controller. Always happy and smiling, that's how we know her. She was a long distance athlete at school and her stamina still shines through. She would love to spoil her family and friends for a picnic at the beach and visit Wellington one day.